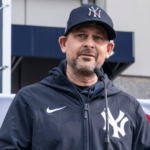 The New York Yankees announced on Tuesday that they've signed manager Aaron Boone to a new three-year contract; Boone's new contract runs through the 2024 season and includes an option for 2025.
The 48-year-old Boone's previous contract had expired at the end of the season. He has a 328-218 regular-season record in his four-year tenure with the franchise, and the team has been 11-11 in the postseason under Boone's leadership. Yankees owner Hal Steinbrenner said in a news release: "We have a person and manager in Aaron Boone who possesses the baseball acumen and widespread respect in our clubhouse to continue to guide us forward. As a team and as an organization, we must grow, evolve and improve. We need to get better. Period. I know Aaron fully embraces our expectations of success, and I look forward to drawing on his intelligence, instincts and leadership in pursuit of our next World Series championship."  Yankees general manager Brian Cashman said during a press conference to announce the news: "Aaron Boone is the solution. He isn't the problem."  However, Cashman also acknowledged the inconsistency of the '21 Yankees, calling them "unstoppable" for stretches and "unwatchable" during others.
The Yankees went 92-70 in the 2021 regular season, but lost to the Boston Red Sox in the American League Wild Card Game.
Editorial credit: lev radin / Shutterstock.com